Personal Social and Health Education (PSHE)
Subject Leader- Mrs. Sophie Cole
Through the teaching of PSHE we strive to raise pupils' self-esteem, help them to grow in knowledge and understanding, recognise the value of all persons and develop caring and sensitive attitudes.
As a place of great love and great learning, built on Christian values, where everyone thrives on encouragement, support and challenge, we aim to be a vibrant school where expectations are high and where effort and excellence are celebrated. Individuality, creativity and independence are fostered and everyone learns in a happy, safe and supportive environment.
In PSHE we aim to
teach children about relationships in an engaging, meaningful and age-appropriate manner through a carefully considered spiral curriculum
take into account the emotional, physical and social maturity of our children
provide opportunities to reflect both the universal needs shared by all pupils as well as the specific needs of individual pupils
be inclusive and meet the needs of each and every one our children, including those with special educational needs or disabilities (SEND)
allow children the opportunity to be responsible for their own actions and a recognition of the impact of these on others
develop opportunities for children to find joy in the goodness of the created world and their own bodily natures
Relationships and Health Education (RHE)
As part of our PSHE curriculum, our school is participating in a brand new Relationship Education programme for Catholic primary schools, titled Life to the Full. 
The Life to the Full programme is based on 'A Model Catholic RSE Curriculum' by the Catholic Education Service which was highlighted as a work of good practice by the Department of Education. Therefore, we have confidence that the programme will be fit for purpose in supporting the growth and development of your child. 
Life to the Full is much more than a series of lessons. It is an entire platform of creative resources that will engage, inform and inspire our children.  This includes interactive video content, story-based activities, employing a wide range of teaching tools, original worship music and an accompanying programme of classroom prayers. 
Programme Structure
To teach the RHE curriculum at St. Peter's, we will use the 'Life to the Full' programme. This programme follows a three-stage structure which is repeated across three different learning stages:
EYFS is aimed at Reception
Key Stage One is aimed at Years 1 and 2
Lower Key Stage Two is aimed at Years 3 and 4
Within each learning stage, there are three modules which are based on the Model Catholic RSE Curriculum:
Created and Loved by God
Created to Love Others
Created to Live in Community
Each Module is then broken down into Units of Work: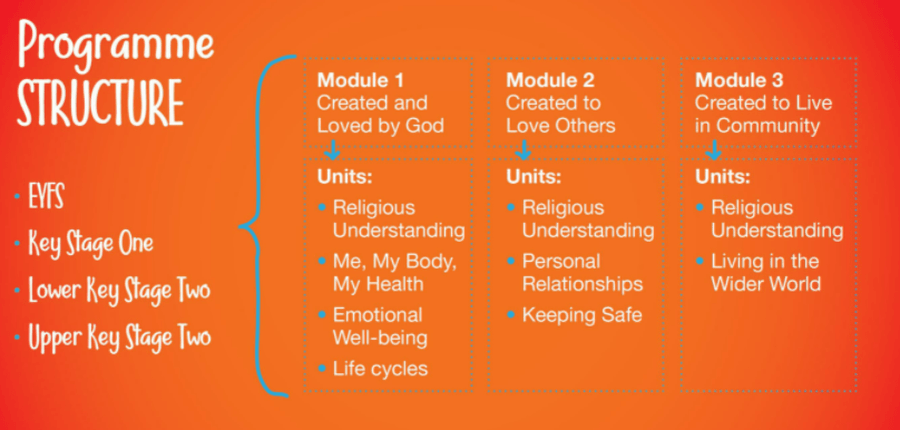 The programme adopts a spiral curriculum approach so, as the children go through the programme year-after-year, the learning will develop and grow, with each stage building on the last. 
Curriculum Overview
Autumn Term 2021
As we began a new school year in new classrooms and with new adults in our classrooms, we reminded ourselves about the school rules and how to be kind to each other. We shared lots of fun information with each other as we got to know each other again and learned lots of things about our new adults and any new children that joined our classes.
As well as learning about our new classrooms, friends and adults, we began our RHE lessons with Module 1- Created and Loved by God. During this module we learned about how to look after our bodies, how to keep healthy and how to deal with our changing emotions. We took part in lots of different activities with our class and reflected upon our own feelings and emotions.
Special Events during Autumn Term 2021
As a school, we took part in the annual national Anti-Bullying week. This year it was held from 15th-19th November. During this week we paid particular attention on what bullying is, what to do if you see bullying taking place and how to help others that are being bullied. With this year's theme being 'One Kind Word', we made an extra special effort to show kindness to others throughout the week and also noticed when we had kindness shown to us.
How to Help you Child at Home
Click the following link to log into the Parent Portal using the details given to access activities to help your child at home.
Websites that will support your child's learning in PSHE
Key Documents